Former Rivals Launch Firm to Breakthrough Political Barriers and Stalemates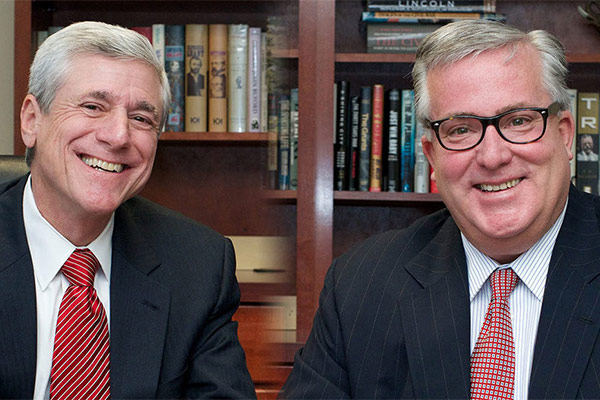 HARRISBURG, PA – Former Democrat State Committee Chair T.J. Rooney and Republican State Committee Chair Alan Novak are transforming their signature status as "frienemies" into a business venture. The duo, known for their Red vs. Blue political commentary, have formed RooneyNovak Group to bring their unique approach to organizations seeking to navigate divisions in government so that ideas and issues can move forward.
"Political and policy disagreements will always exist, but there is always a way to get things done," said Novak. "T.J. and I have never believed in stalemates. As we turn the corner in 2015, we want to help our clients be part of the solutions in Harrisburg and Washington."
RooneyNovak Group will provide clients with government relations and leadership communications and C-suite executive solutions. The firm will be part of a family of companies, which include the new business partners' existing government relations and issue advocacy firms Novak Strategic Advisors and Tri-State Strategies. All will continue to separately serve new and existing clients.
"Pennsylvania may have a solidly Republican legislature and a new Democrat governor, but in reality our increasingly 'purple state' doesn't negate the need to address very serious issues for the good of Pennsylvania," said Rooney. "The goal of the RooneyNovak Group is to help our clients cross the chasm of polarization that has unfortunately become the hallmark of Harrisburg and Washington."
RooneyNovak Group is a natural extension of a friendship that began when Rooney and Novak locked their political horns as the respected chairs of the Democrat and Republican State Committees. At that time, they fought daily campaign skirmishes and major battles, but eventually found that while their political views were poles apart, neither considered stalemates in inner-party politics and legislative negotiations good policy or government. Consummate insiders and trusted advisors for candidates and elected officials, their civil and often humorous discussions about politics and issues evolved into regular appearances as media commentators before business leaders and professional associations.
RooneyNovak will have a statewide presence and provide clients with solution-based government relations, leadership communications and C-suite executive solutions.
Rooney has been a leader in Pennsylvania state government and politics since 1992 when he was first elected to the Pennsylvania House of Representatives at the age of 27. Rooney was overwhelmingly reelected to seven consecutive terms. During that time, he distinguished himself as a strong and effective leader, serving on numerous committees and eventually being named by The Patriot-News as "one of the most influential members of the legislature." At the national level, Rooney was an integral member of the Gore 2000 campaign. Most recently he chaired the McGinty for Governor Committee, served as an advisor to the Tom Wolf for Governor campaign and chaired the Insurance Committee for Wolf's transition team.
Novak was one of the longest serving Chairman of Pennsylvania's Republican Party (1996-2005) where he engineered nearly a decade of Republican dominance in statewide elections and was regularly recognized on PoliticsPA.com's "Power 50 List" as one of the fifty most politically powerful Pennsylvanians. His experience has led him to be tapped as political advisor to Governors Ridge, Schwieker and Corbett. Trained as a lawyer, Novak is currently on the board of Independence Blue Cross and chair of the Pennsylvania Race Horse Commission.
Contact: Lauren Cotter Brobson, lcbrobson@cotterbrobson.com or (717) 805-0271